Our Location
Our Location
ברוך...שהחיינו וקיימנו והגיענו לזמן הזה!
Blessed is Hashem who has given us life, sustained us, and brought us to this auspicious time!
Rabbi Yonatan and Rabbanit Devorah (and Elchanan) signing the lease!
It is with gratitude to Hashem and tremendous joy in our hearts that we invite you to join us at our new location!
We have a long road ahead of us to make our new location the home we wish it to be, but we are excited to open our doors and allow you to experience the community with us!
We have moved to the UC Marketplace shopping center (where Sprouts is located), and are on the second floor facing Regents Road.
Our new address is:
3232 Governor Drive
Suite K
San Diego, CA 92122
All mail should still be sent to our PO Box:
Shiviti/Kehillat Shaar HaShamayim
PO Box 221132
San Diego, CA 92192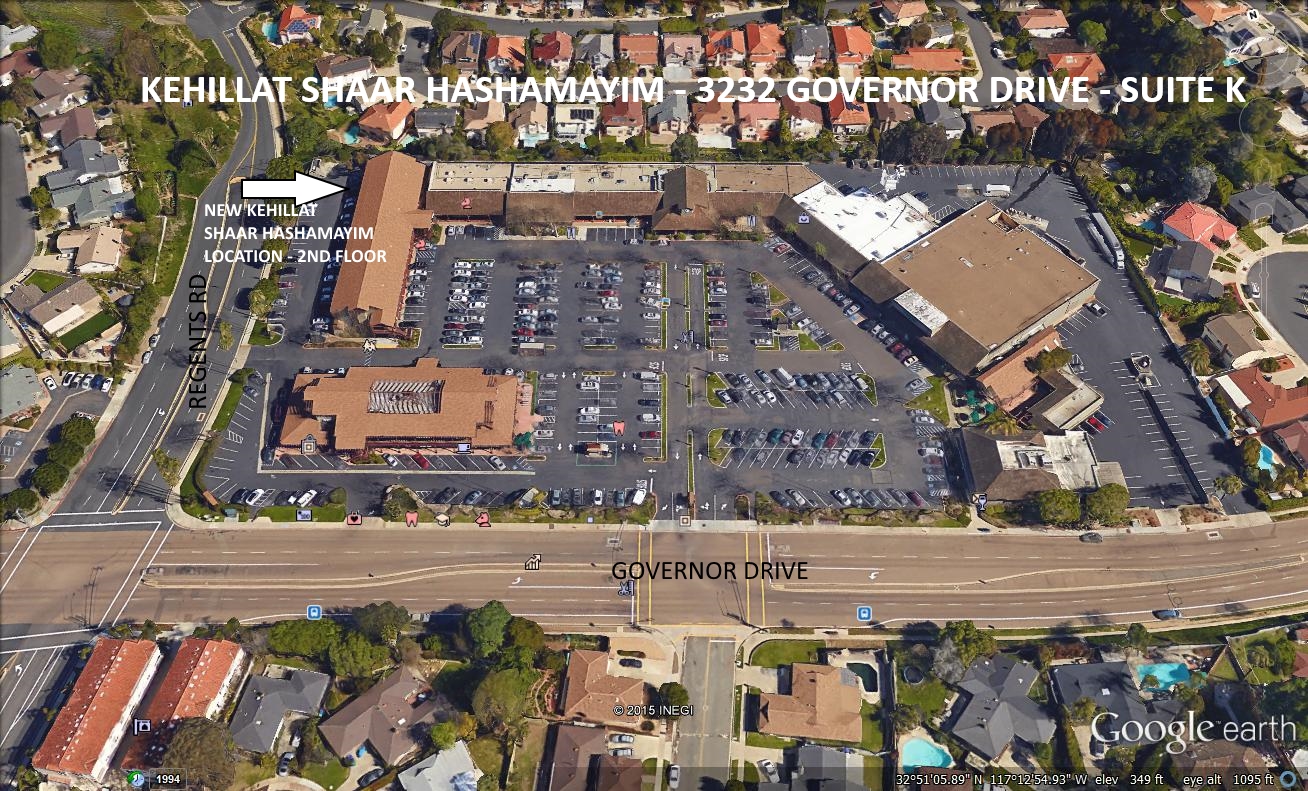 ---
Important Notices
Parking
Parking is not permitted on the parking lot premises during Shabbat, holidays, and during normal business hours. This is a condition for our continued use of the new location, and we ask that you please obey the rules. Kehillat Shaar HaShamayim does not take responsibility for your vehicle held in violation of this condition.
This is especially true for those who wish to park near the location for the entire Shabbat. There is plenty of street parking available and we ask that you kindly use it.
Children
Kehillat Shaar HaShamayim does not have child care services. Your children are your absolute responsibility. Children must be near you at all times, and are not permitted to run through the hallways or parking lots, actions which are both bothersome to our neighbors and extremely dangerous.
Meals
Until renovations are made to our new location, all meals will be held in the Rabbi and Rabbanit's home. All are invited and welcome to enjoy with us!
---
What needs to be done?
We have taken care of contracts, real estate brokers, insurance policies, lawyers, basic furniture, a large deposit of pre-paid rent - and hundreds of hours of work by our dedicated community members!
We are nowhere near finished - and you are welcome to take an active role in ensuring that we continue full speed ahead in time for the high holidays!
Tue, September 26 2023
11 Tishrei 5784
zmanim
Alot Hashachar
5:27am
Earliest Tallit
5:55am
Netz (Sunrise)
6:40am
Latest Shema
9:39am
Zman Tefillah
10:40am
Chatzot (Midday)
12:40pm
Mincha Gedola
1:10pm
Plag HaMincha
5:25pm
Shkiah (Sunset)
6:40pm
Tzeit Hakochavim
7:17pm
More >>
Contact
Rabbi Yonatan Halevy can be reached by phone or text at (858) 752-1025.
If unavailable, please leave a message and your call will be returned shortly.
Shiviti
Kehillat Shaar HaShamayim is a division of Shiviti, a non-profit organization.
Tue, September 26 2023 11 Tishrei 5784