Yehi Shalom
corona virus update
We regret that until this outbreak is over, Yehi Shalom orders will be processed without inscriptions from the Rabbi.
Thank you for understanding!
new edition has arrived!
Baruch Hashem, our supply of Yehi Shalom has arrived!
Yehi Shalom
Revised and Reprinted – Third Edition!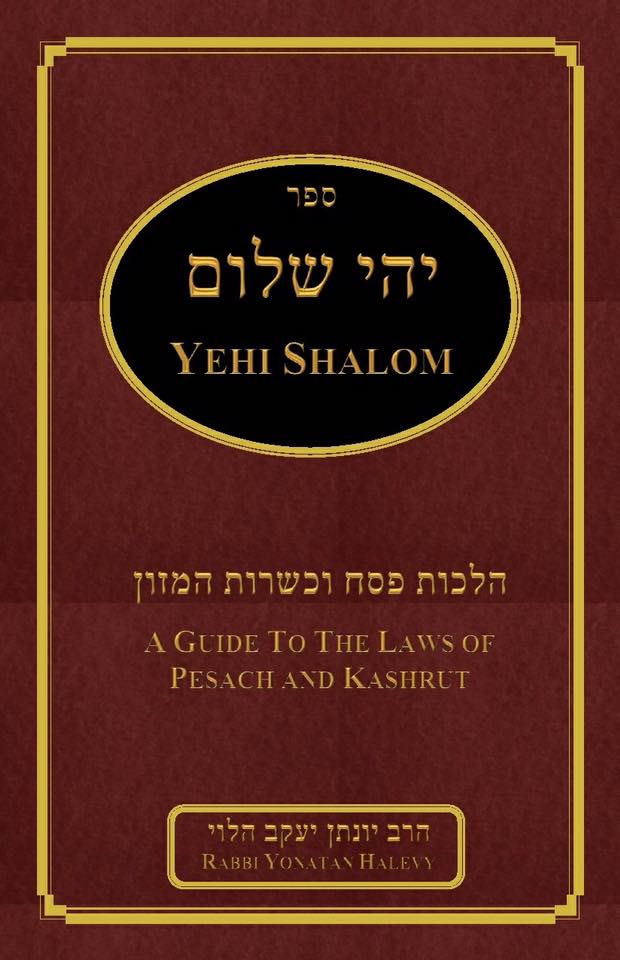 "Yehi Shalom: A Guide to the Laws of Pesach and Kashrut" is now available!
This book is a comprehensive and practical resource for both Ashkenazim and Sepharadim, written in English, containing over 250 pages and including hundreds of sources.
List price is $25 but we are offering the book for just $20 in honor of Pesach!
If you wish to pick-up your book in person, choose the amount of books you wish to order and leave the shipping sections blank.
The book can be shipped anywhere in the US for an additional $5. If you wish for your book to be shipped to your location in the US, please fill in the shipping setions.
TWO PURCHASE OPTIONS: (choose carefully)
1: Shipped anywhere in the US for $5.
2: Physical pick-up (San Diego) and will not be shipped
You don't need a KSH account to purchase the book! You can simply purchase with your credit card using our secure servers.
Wed, April 14 2021
2 Iyyar 5781
Today's Sefirah Count Is 17
היום שבעה עשר יום שהם שני שבועות ושלשה ימים לעמר
Today's Calendar
---
This week's Torah portion is

Parshat Tazria-Metzora
Candle Lighting
Havdalah
Motzei Shabbat, Apr 17, 8:10p
Yom Hazikaron
View Calendar
zmanim
Alot Hashachar
5:04a
Earliest Tallit
5:34a
Netz (Sunrise)
6:21a
Latest Shema
9:34a
Zman Tefillah
10:40a
Chatzot (Midday)
12:49p
Mincha Gedola
1:22p
Plag HaMincha
5:57p
Shkiah (Sunset)
7:18p
Tzeit Hakochavim
7:56p
More >>
Contact
Rabbi Yonatan Halevy can be reached by phone or text at (858) 752-1025.
If unavailable, please leave a message and your call will be returned shortly.
Shiviti
Kehillat Shaar HaShamayim is a division of Shiviti, a non-profit organization.
Wed, April 14 2021 2 Iyyar 5781